What Makes a Personal Injury Case Big or Small?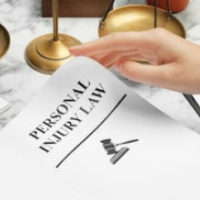 If you've watched enough late-night TV, you've probably heard the big promises. Attorneys offering millions in compensation for injuries. To be fair, experienced and dynamic lawyers like the ones at Halpern, Santos & Pinkert, P.A. have received numerous multi-million-dollar verdicts and settlements for our clients. But it's not enough to just boast results. It helps to understand where these large numbers come from and what makes a difference when pursuing compensation for a client.
So, without further ado, consider the following. We'll call them the big, the small, and the ugly. These are three kinds of injury claims that people bring and the various factors that go into evaluating how much a case may be worth.
The Big – What Makes a Huge Personal Injury Case? 
Obviously more goes into a case than can be discussed in a brief article, but in general, the more severe the injury, the bigger the potential recovery. Things like wrongful deaths, catastrophic and life-altering injuries, and cases involving amputations, paralysis, or permanent loss of eyesight can all be examples of cases that would likely have a large value.
Further, keep in mind that the defendant makes a difference. If the defendant has no money and is uninsured, there is little chance you will receive a sizeable award. After all, there must be a source of payment in order to recover. This is not always the case, of course, but it usually does hold true.
The Small – What Makes a Minor Injury Claim? 
Most auto accident cases in Florida do not result in major injuries. Fender benders and so called soft-tissue injuries are often easily covered by a person's personal injury protection (PIP) insurance. As a no-fault state, if the injuries are relatively minor in a car accident, then the injured person usually does not have a right to even bring a lawsuit if they wanted to. Instead, their own insurance carrier will take care of the minimal medical expenses. There are, as always, exceptions to the rule. So, even if you think your injuries are minor, it's still worth speaking with an attorney.
The Ugly – Things That Make for a Bad Personal Injury Case 
Finally, there are times when there simply is not a case. These include situations where insurance fraud is involved, a person is not injured at all, or where the injury is mostly the victim's fault. Granted, Florida law still allows an at-fault victim to seek compensation. However, compensation will be greatly reduced. Usually, these are not worth pursuing.
Damages You Can Seek 
Ultimately, compensation is all about paying for your damages. Damages can be anything you have lost, such as:
Property damages
Lost income
Lost future income
Lost earning potential
The cost of medical care
The cost of future medical needs
Your pain and suffering
Emotional distress
Out-of-pocket expenses
Loss of enjoyment of life
Disfigurement and scarring
Permanent disabilities
Other things that often make a difference include:
The age of the injured person
Pre-existing conditions
Potential shared liability
Location or jurisdiction of the injury
Type of case
Amount of insurance available
Get Help Today
If you've been hurt in an accident, reach out to the Florida personal injury attorneys at Halpern, Santos & Pinkert, P.A. to discuss. We can carefully walk you through all of your options and help to make sense out of your damages. The call is free, so contact us today.
Resource:
flhsmv.gov/ddl/frfaqgen.html