Florida Drowning Deaths Often Preventable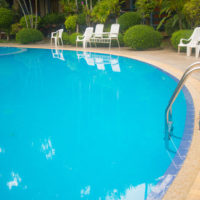 For south Florida residents, having a pool is just a part of life. Many Floridians can't imagine life in the sun without one. In fact, Florida has the second-highest ratio of pools to people in the country, just behind Arizona. But in terms of total pools, Florida still has more. What's more, over 40% of all the pools in the United States are located in either Florida or California.
But as with anything, there are risks that can come from having a luxury item like a pool. Perhaps the most notable risk is the potential for someone to be seriously injured or drown in that pool. Children are especially at risk for drowning in south Florida pools. At Halpern, Santos & Pinkert, P.A., our trial lawyers have spent their careers in service to the community, always striving to set things right and help injured people and those suffering from terrible losses. If you've lost a child or other loved one due to a pool-related injury, give us a call to see how we can help. Many times, pool injuries are entirely preventable.
Common Pool Injuries and Drowning Deaths 
Owning a pool is great. There is nothing negligent or wrong about owning a pool per se. But if you choose to have one on your property, it does trigger certain legal duties and obligations. For instance, you have a duty to keep a close eye open for children who are playing on your property and to make sure that small children are never allowed to play unsupervised. Some of the most common injuries include:
Children getting into a pool when grownups are not around
People diving into a pool, not knowing the depth
Diving board injuries
Head traumas
Concussions
Unintentional drownings
Slip and fall injuries around pools and pool decks
Slide injuries
Injuries relating to dangerous toys or foreign objects brought into the pool
Injuries caused by horseplay and roughhousing
Laws Regarding Pool Safety 
Depending on where you live in Florida, you may be subject to local laws and ordinances that create strict rules for how you must secure your pool from outsiders and even trespassers. That's right, in certain limited situations, you could even be liable for a small child who is attracted to the pool and enters without your permission. Under the attractive nuisance doctrine, items like pools, treehouses, trampolines, and swing sets can pose a threat, because they attract small children who may not be old enough or mature enough to know the harm and danger. Therefore, it is incumbent upon the property owner to secure and protect the pool from these tiny, sometimes unwelcome, visitors.
Consider the Miami local ordinance found Sect. 8C-4, which sets forth rules requiring all pool-owners to maintain a safety fence at least 48 inches tall with no more than a 4 inch opening at any point. Such rules vary from city to city, so it's important for property owners to check their own municipalities before building.
How to Recover Compensation for Pool-Related Injuries and Deaths 
If you've been badly hurt in a pool or on someone else's property, then you may have a right to seek compensation through a homeowners' or business insurance policy. If you've lost a loved one because of a pool-owner's careless failure to secure their property or a negligently maintained pool, contact the Florida personal injury lawyers at Halpern, Santos & Pinkert, P.A. today. Consultations are free, so contact us right away to discuss your case.
Resources:
library.municode.com/fl/miami_-_dade_county/codes/code_of_ordinances?nodeId=PTIIICOOR_CH8CBUSEME_S8C-4PUSWPOSPHOTUBA
porch.com/advice/porch-data-reveals-top-10-pool-loving-states