How Truck Accidents Differ from Car Accidents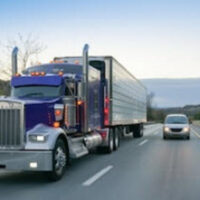 Large commercial vehicles like tractor-trailers, dump trucks, and garbage trucks can cause considerable damage when they collide with pedestrians or those riding in lighter passenger vehicles. However, truck accidents are not like regular car accidents, and injured victims and their families need attorneys who are experienced in this area of law.
At Halpern Santos & Pinker, PA, we understand truck accident law inside and out, and we can use our experience to seek the maximum compensation under the law. Whereas an inexperienced attorney might make simple mistakes that cost you money, we'll bring your claim the right way.
Truck Accidents Cause Greater Injuries
There's no two ways about it—commercial trucks are larger and heavier than passenger sedans, and they can cause horrific damage when they hit unsuspecting victims. It is not unusual for truck accident victims to suffer long-lasting brain or spinal cord injuries.
The greater your injuries, the more compensation that is in play. However, this also means that many insurance companies will fight these claims more aggressively. You need to fully document your prognosis and medical condition to seek the maximum compensation under the law.
There May Be More Evidence in a Truck Accident
Many trucks today are outfitted with electronic logbooks and other "black boxes" that record data about the truck. This evidence can prove crucial in many accident cases. For example, the driver might have been driving well beyond the maximum number of hours allowed under the federal "hours of service" regulations, and this proof can help establish liability for the crash. Unfortunately, an inexperienced attorney might not know how to request electronic data from the trucking company.
Many More Defendants Can Be Sued
If you are hit by a schoolteacher in a Toyota Camry, chances are you can only sue the driver. But with truck accidents, you might be able to sue many more defendants. These can include:
The truck driver
The trucking company who employs the driver
The manufacturer of the truck or the trailer
The company that loaded the cargo
The repair shop that services the truck
The more defendants who you can sue, the greater the chances of receiving fair compensation after an accident.
Trucking Companies Defend Cases Aggressively
Trucking companies and/or their insurers often employ private investigators who show up at the scene of the crash before the police even arrive. This investigator's job is to find out what happened and, if possible, push responsibility for the crash onto someone else, maybe even the victim. Investigators might also comb through your social media accounts looking for proof that you are not as injured as you claim, so that they can reduce the amount of compensation they offer you.
Trucking companies also have many attorneys to represent their interests. If you try to make a claim without one of your own, you face an uphill battle against a powerful opponent.
At our law firm, we stand beside clients like you and stand up for your rights after an accident. We can handle all communications with insurers so you can focus on what really matters—recovering from your injuries.
For more information, please contact our Florida personal injury attorneys at Halpern Santos & Pinkert, P.A. today for a free, confidential consultation.
Resource:
fmcsa.dot.gov/regulations/hours-service/summary-hours-service-regulations
https://www.hsptrial.com/how-expensive-are-spinal-cord-injuries/