Firefighting Foam The Subject Of A Class-Action Lawsuit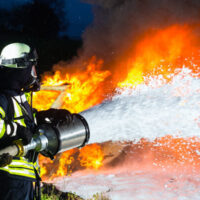 Dupont is among the named defendants in a lawsuit filed concerning the toxic nature of foam used to fight fires. The city of Stuart, Florida is the venue for the first of three bellwether trials set to commence over whether or not PFAS found in firefighting foam contaminated water supplies. The foam is believed to contain a dangerous chemical known as a PFAS which is linked to various types of cancer including kidney cancer, testicular cancer, pancreatic cancer, and prostate cancer.
The companies are being sued by various municipalities including one right here in Stuart, Florida. The plaintiffs claim that the companies that manufacture these chemicals are liable for damage done to the environment. Individuals who develop cancer may also be entitled to recover damages from the company if they were exposed to firefighting foam.
What is PFAS? 
According to the EPA, per-and poly-fluoroalkyl substances, also known as PFAS, is a widely used, long-lasting chemical that degrades very slowly. Due to the widespread use of the chemical in various industries, PFAS are found in the bloodstreams of people and animals all over the world. They are also present in a wide variety of food products in very small amounts. PFAS. PFAS can be found in air, fish, soil, and water. Studies have shown that exposure to PFAS can result in a wide variety of health problems including cancer.
In the case mentioned above, municipalities are alleging that companies that produce firefighting foam have contaminated the water supply of the plaintiffs.
Firefighting foam lawsuits 
PFAS have been used in firefighting foam since the 1960s. They are used at military bases and airports because they are effective at putting out jet fuel fires. Those who develop cancer after being exposed to firefighting foam (including firefighters) can file lawsuits against the companies that produce the foam. They can allege that their cancer is directly related to exposure to PFAS. Military firefighters and firefighters who work at airports are at increased risk of developing cancer from exposure to PFAS. Airports require the use of PFAS firefighting foam due to its heavy-duty capacity to put out jet fuel fires.
To determine if you are eligible to file a lawsuit against one of the companies that produced this firefighting foam, you should contact a Florida product liability lawyer today. We can help assess your case and provide you with relevant information regarding litigation. A Florida product liability lawyer can determine your eligibility to file a lawsuit. We will gather evidence from your medical records and work histories to prove that you were exposed to PFAS. We will then file a lawsuit against the company that manufactured the firefighting foam and attempt to negotiate a fair settlement on your behalf.
Contact a Florida Product Liability Attorney Today 
If you have been injured due to a dangerous or toxic product, call the Florida personal injury lawyers at Halpern, Santos & Pinkert today to schedule a free consultation and learn more about how we can help you recover damages related to your injuries, medical expenses, lost wages, and reduced quality of life.
Source:
epa.gov/pfas/pfas-explained