Wrongful Death or Survival? Understanding Your Options After a Fatal Injury in Florida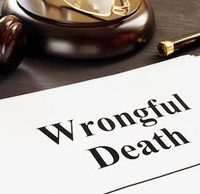 After a fatal injury in Florida, many families are practically stunned and numb, unable to react or even catch their breath long enough to take legal actions. Sadly, this is what insurance companies and large businesses are counting on. At Halpern, Santos & Pinkert, P.A., we've represented many injured people and helped families who are suffering after the loss of a loved one. Wrongful deaths happen every day, but for the victim's family, there is no way to compare the loss. We understand this and look for creative solutions to help families recover compensation for their loss.
One area of confusion for many people is the subject of what type of lawsuit to bring. If you've heard the term wrongful death, you probably know it has something to do with a lawsuit based on someone's death. But there's another type of lawsuit known as a survival action. In Florida, you have options.
What is a Wrongful Death Case? 
A wrongful death case is one that is brought by surviving family members in order to recover compensation for the loss of a loved one. This is separate and distinct from the type of action that an estate may bring. This is known as a survival claim.
What Makes a Wrongful Death Case Different From a Survival Action? 
A wrongful death claim is predicated on the claim that surviving family members have suffered a loss. Therefore, they should be compensated for their loss. In this way, the damages belong to the survivors.
A survival action is a lawsuit brought on behalf of an estate in order to recover money that would have been potentially due to the decedent had he or she survived. In this way, it's as though the right to compensation "survived" the decedent and has passed on to the heirs through a will or through probate.
How Florida Law is Somewhat Unique 
In many states, a surviving relative can bring both types of claims. In the event of a settlement or a jury verdict, the court (or the parties by agreement) will decide which percent of the award is paid to which count or theory (wrongful death vs. survival claim).
Florida, however, is different. In Florida, the court typically makes families choose which action to pursue. Under the Wrongful Death Act, there may be different types of damages and claims available than what may be asserted under the Florida Survival Act. Therefore, it is imperative that you consult an experienced attorney who can provide your options and explain the distinctions and how they may affect your own case.
Call an Experienced Wrongful Death Lawyer Near You
For help determining your best options for pursuing justice on behalf of a loved one, call the attorneys of Halpern, Santos & Pinkert, P.A. today. Our firm never charges outrageous upfront retainer fees, and we don't expect a grieving client to spend thousands of dollars on advanced costs. We handle all of these things for our clients and only recover our costs and attorney fees if we are successful in recovering compensation for you.
Florida law gives you just 2 years from the date of the death to bring a wrongful death or survival action. But beware, there are a lot of exceptions and limitations that can make this time period even shorter. Never wait to the last minute. Call an experienced attorney today.
Resources:
flsenate.gov/Laws/Statutes/2011/46.021
leg.state.fl.us/statutes/index.cfm?App_mode=Display_Statute&URL=0700-0799/0768/Sections/0768.21.html