Woman Injured During "Dancing With The Stars" Aboard Cruise Ship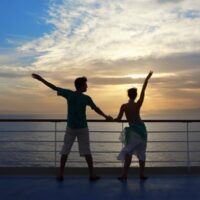 A woman sued Norwegian Cruise Lines after she suffered a traumatic brain injury while dancing with an NGL employee. Cruise ship injuries such as these are often filed under a theory of premises liability. Premises liability lawsuits require that the plaintiff prove negligence. In order to prove negligence, the plaintiff must establish that the defendant either knew or should have known (if they exercised reasonable care) that a danger was in place. NGL attempted to defeat the lawsuit on that basis.
However, the plaintiff argued that this was not a premises liability suit but rather the direct actions of an employee contributed to the injury. Because the employee was responsible for the injury, the lawsuit can be filed under a theory of vicarious liability. In other words, it's a different claim alleging a different theory of negligence. In this case, it's easier to prove a claim that an employee was negligent than it is to prove a claim that a proprietor either knew or should have known about an inherent danger on their property.
A three-judge appellate court agreed with the plaintiff and voted to reinstate her lawsuit against NGL after her case was dismissed on the grounds that she failed to state a claim.
What happened? 
The plaintiff boarded a 10-day cruise during which the festivities included a "Dancing with the Stars" style competition where passengers were paired with crewmembers. The passengers were then graded on how entertaining they were. In this case, the crewmember, who was a professional dancer, attempted to spin the 64-year-old woman but she fell backwards and hit her head. It is unclear if she was more entertaining than the other passengers. The woman sued the cruise line claiming that the dancer's negligence led to her injury. However, a judge sided with NGL and determined that the cruise line did not have actual or constructive notice of a dangerous condition. In this case, the dangerous condition was the dancer, not the environment. Such notice is only required in instances where the property owner is accused of being directly liable for the injury. Landlords and Walmart are often sued on these grounds.
When a plaintiff alleges that an employee committed an act of negligence that caused an injury, the plaintiff is not making a premises liability claim. If a plaintiff slips and falls at Walmart, that is a premises liability claim. If a plaintiff is sent hurtling through the air by a Walmart employee, then that is a claim against Walmart that alleges negligence on behalf of the employee. A defendant would not require "advanced notice" of the employee for the lawsuit to move forward.
Talk to a Florida Cruise Ship Injury Attorney Today 
If you have sustained an injury aboard a cruise ship, call the Florida personal injury lawyers at Halpern, Santos & Pinkert today to schedule a free consultation and learn more about how we can help.
Source:
reuters.com/legal/transactional/cruise-co-can-be-vicariously-liable-dancing-with-stars-injury-11th-circ-2021-07-12/