Victim Secures $9 Million In Tire Blowout Accident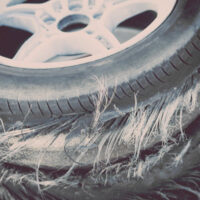 A salesman who suffered a traumatic brain injury recovered $9 million in a lawsuit filed against the owner of the truck, the company he worked for, and Michelin Tires. A Ford Excursion belonging to a wrecking company blew out a tire, causing the vehicle to flip several times and strike the plaintiff's vehicle.
The plaintiff suffered catastrophic injuries as a result of the accident. He was hospitalized in intensive care for two months and then required 9 months of rehab. He was unable to return to his job and now, his wife has to care for him on a regular basis meaning that she will not be able to work either.
The wrecking company 
In this case, the wrecking company was primarily responsible for the catastrophic injuries suffered by the plaintiff. The tire on the vehicle was a 14-year-old spare that had never been serviced. The wrecking company argued that they properly maintained their vehicles and that there was no way that they could have known that a specific tire would have blown out at a specific time.
However, that is not a defense. Every company and individual who takes a vehicle out on the road is responsible for that vehicle and its roadworthiness. So when an accident with a tire does occur, someone is always responsible.
Michelin 
The case against Michelin has yet to settle and the allegations against the company are not strong. Unlike the wrecking company, Michelin has no power to prevent such an accident before it begins. Since the tire was under the direct control of the wrecking company, the liability falls on them. However, Michelin can be named in the lawsuit and then dropped later.
At the beginning of a lawsuit, it may not be apparent who is mostly liable. Claims are filed against all individuals who could have contributed liability, and then can be dropped later if depositions reveal that the company was not responsible.
Ultimately, Michelin isn't responsible for an incident that they could not control. But there's a possibility they settle the claim because it's cheaper than litigating it. In most cases, the claim against Michelin would be dropped.
The driver
 The driver is a victim of this tire blowout accident too. But as an employee of the company, he would not be able to sue his own employer due to workers' compensation immunity. Unfortunately, he can be sued, but individuals are almost never held liable when the case is settled. Their employee would pick up liability on their behalf.
Drivers are routinely named in lawsuits but are not required to pay out claims. The same is true for any employee who was there when an accident occurred.
Talk to a Florida Tire Blowout Injury Attorney Today 
Halpern, Santos & Pinkert represent the interests of Florida residents who have been injured in complex traffic accidents involving mechanical failure. Call our Florida personal injury lawyers today to schedule a free consultation and we can begin working on your claim immediately.
dailyvoice.com/new-jersey/middlesex/news/salesman-who-suffered-brain-injury-gets-9m-settlement-in-nj-turnpike-tire-blowout-crash/819797/