Truck Override and Underride Accidents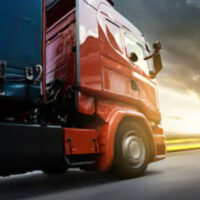 Tractor-trailers sit higher off the ground than other vehicles, and this creates a problem as other cars on the road can easily get wedged underneath. Overrides and underrides are two types of truck accidents that can turn deadly, and motorists are helpless when a larger vehicle rides up over them or they slide under the trailer. Injured victims and their family members should contact a Florida truck accident lawyer as soon as possible to review whether they have a legal claim.
Override versus Underrides
An override occurs when a tractor-trailer comes up behind a passenger sedan and rides up over the trunk and possibly into the backseat. These accidents happen for many reasons, but one obvious cause is that the truck is following too closely. Loaded tractor-trailers need up to 40% more space to stop, but a careless or inexperienced driver might not leave enough of a cushion.
With an underride accident, a smaller vehicle passes under the back or side of the trailer, getting stuck there. There are many reasons for an underride, such as the smaller vehicle following too closely or the truck driver cutting them off.
Override & Underride Injuries
These accidents are very dangerous. With an override, there is a substantial risk that the truck will crush someone sitting in the back. Tractor-trailers are very heavy—sometimes up to 80,000 pounds. Having even a fraction of that weight crushing down on a car can lead to serious injuries, such as:
Fractures
Spinal cord damage
Amputations
Crush injuries
Internal organ damage
With an underride, the danger is that the trailer will shear off the roof of the smaller vehicle. Many victims can be decapitated if their vehicle is going to fast. Other common injuries include neck fractures, facial injuries, and traumatic brain injuries.
Fatalities are a possibility with either type of accident. Surviving family members should reach out to a truck accident attorney to review whether they have a wrongful death claim.
Liability for Truck Accidents
The party at fault depends on the circumstances, since not every underride or override unfolds in the exact same way. For example, when the truck driver is following too closely, they can be at fault for an override. They are also likely at fault when they cut off a car, leading to an underride.
Trucking companies might also bear some responsibility for an accident. For example, they should install a bar at the back of the trailer which will prevent a car from sliding under. When the bar is missing or defective, then the trucking company could be liable. The same is true if defective or malfunctioning brakes prevented a truck from stopping on time.
Injured in an Override or Underride? Give Us a Call
Halpern Santos & Pinkert, P.A. has obtained more than $200 million in compensation for our clients, and we are prepared to do everything possible to maximize the financial value of your claim. Truck accident cases take time to fully develop, so please contact our firm as soon as possible. We offer free consultations.
Resource:
iihs.org/topics/fatality-statistics/detail/large-trucks