Trip And Fall Dismissed Against Royal Caribbean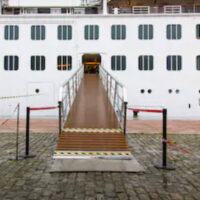 A woman had her slip and fall claim against Royal Caribbean dismissed after the court ruled that she failed to state a claim. In this case, the woman slipped and fell while disembarking from the ship. Royal Caribbean argued that the woman caused her own injury and failing that, did not state a claim of negligence against her.
In negligence lawsuits, specifically premises liability lawsuits, it is imperative to establish negligence. Negligence is established by proving that a proprietor knew about a dangerous condition and failed to remedy it. Alternatively, you can establish that a proprietor would have known about a dangerous condition had they exercised ordinary care. In other words, you can argue that the proprietor should have known about the dangerous condition. The complaint against Royal Caribbean was dismissed, however, because the plaintiff failed to directly state a theory of negligence that implicated Royal Caribbean.
Theory of negligence 
To file a proper pleading, you must establish that the defendant could be liable for the injury. In this case, the plaintiff failed to do so. It was never apparent from the pleading why the woman fell on the gangway. To plead the case properly, she would have had to allege Royal Caribbean left a dangerous condition in the path of customers and/or they failed to warn customers about a dangerous condition.
Instead of asserting that Royal Caribbean breached its duty of care in a specific way, the plaintiff asserted at least nine ways that Royal Caribbean might have breached its duty of care. The court found that each allegation was its own separate theory and must be pleaded separately. The court demanded that the plaintiff submit a revised complaint or run the risk of her complaint being dismissed with prejudice, meaning she would not be able to refile.
In response, the plaintiff alleged that the employees failed to issue adequate warnings, the gangway had not been maintained properly, and that past tripping incidents had been noted. However, there was no specific allegation that connected the negligence to the plaintiff's injuries. For example, had she argued that disembarkation procedures created an injury hazard and that she was injured while other customers tried to elbow their way around her, the complaint would be valid. Instead, the plaintiff filed theories of how Royal Caribbean could be negligent.
In a personal injury filing, you must allege (as a fact) that a certain breach of duty resulted in your injury. There must be a direct or proximate causal relationship between the breach and the injury. In this case, Royal Caribbean may have breached its duty of care, but the plaintiff failed to establish that the breach was the direct or proximate cause of her injury. Thus, her complaint was dismissed.
Talk to a Florida Cruise Ship Injury Lawyer Today
 Halpern, Santos & Pinkert represent the interests of Florida plaintiffs who have suffered injury aboard cruise ships. Call our Florida personal injury lawyers today to schedule a free consultation and learn more about how we can help.
Source:
casetext.com/case/taylor-v-royal-caribbean-cruises-ltd-4