Tool Injuries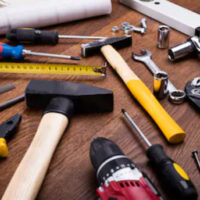 Once upon a time, construction workers relied mostly on hammers, nails, and screwdrivers to construct buildings. Today, power tools are some of the most dangerous pieces of equipment that can cause serious injuries.
At Halpern Santos & Pinkert, P.A., our Florida construction accident lawyers help those injured a jobsite receive the compensation they need. Defective tools are a clear danger that can lead to missed work and expensive medical bills. Please contact us today.
Common Tools on Jobsites 
Workers might use many different tools during the day, such as:
Drills
Blow torches
Nail guns
Circular saws
Hammers
Chain saws
If a tool is powered by electricity, then any number of things can go wrong that lead to an electrocution. Other tools are safe to use if they have safety equipment, such as a shield that prevents a body part from getting caught in the tool. However, when this safety equipment is missing or defective, then innocent workers can be injured.
We have also seen defectively designed or manufactured tools be sold on the market. These unreasonably dangerous products should be pulled from the stream of commerce before more people are injured.
Typical Injuries
Our clients have suffered some serious injuries when tools fail to work properly:
Electrocution
Burns
Facial disfigurement
Lacerations or cuts
Eye injury, including blindness
Ear injuries, including deafness
Traumatic brain injury
Amputation
Sometimes, a worker is not injured by the tool directly. Instead, it might cause him to fall off a ladder or higher level in a building. For example, an electrocution might only cause a "jolt" to the system. But this could be enough for a worker to come tumbling down off a ladder and get injured when he hits the ground.
What to Do after a Tool Injury
If you were injured while using a tool, you need to take certain steps to preserve your right to compensation. First, you should notify your supervisor that you have been injured. Dong so protects other workers who might be injured using the same or similar tool.
Next, you should get to the hospital as soon as possible for treatment. Some injuries can be mitigated if the worker obtains prompt medical care.
You should also preserve the tool that injured you. For example, if a drill exploded in your face, then you will want to keep all the parts so that an attorney can look at them. Even if you need to rush to the hospital, you should tell a coworker to preserve the tool for you.
Some worksite injuries are slow to develop. for example, prolonged use of a pneumatic drill can cause progressive hearing loss, especially if you were not provided with adequate ear plugs. You should also make a note of all the equipment you have used and save your personal protection equipment (PPE) for an attorney to inspect.
Speak with a Construction Accident Attorney Today
At Halpern Santos & Pinkert, P.A., our attorneys have tackled some of the most complicated construction accident cases. We have deep experience bringing product liability suits for defective equipment, and we can help you today. Call us to schedule a free consultation.