Tire Placement – What You Should Know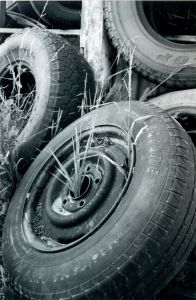 An issue that has lead to confusion within the tire industry and the general public is the placement of new tires when less than a complete set of four new tires are purchased. The placement of tires is an essential safety element in South Florida because of heat and wetness.
In general, while tires are in service they wear down and have less tread. As the tread depth diminishes the tire's ability to provide proper traction also decreases. Therefore a new and unused tire should have the deepest possible tread, and the best the traction.
The Rubber Manufacturers Association (RMA) recommends when buying two tires in the same size and construction, the newer tires should be installed on the rear. By placing the newer tires on the rear, your car will have better grip on the road and prevent fishtailing or hydroplaning. This recommendation has been adopted by many tire manufacturers, including Cooper, Michelin, and Goodyear/ Dunlop.
In addition, local, regional and national tire dealerships, such as Tires Plus , Wal-Mart , and Tire Rack , have all adopted the RMA's Guidelines.
Yet it is not uncommon to find many cars on South Florida roads with two new, recently purchased tires in the front wheel positions, and older, worn out tires on the rear. These vehicles are exposed to potential hydroplaning and oversteer conditions which could result in serious injury and death.
Halpern, Santos & Pinkert, P.A. has handled scores of tire related cases, including defective tires, improper placement and rollover cases. We have handled cases involving local, regional and national tire dealerships that have failed to remove defective tires from vehicles, or have improperly placed newly purchased tires. In addition we also handle an array of other product liability cases, including automotive products, machines, appliances and toys.