Similac Sued After Baby Contracts Necrotizing Enterocolitis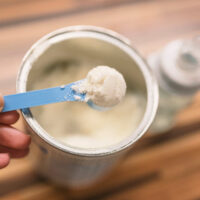 Similac is being sued after a newborn baby contracted necrotizing enterocolitis. Necrotizing enterocolitis (NEC) is a disease of the intestines that causes such intense inflammation that the tissue of the intestines dies. It is a potentially fatal complication. Premature babies are more likely to develop the disorder than babies that arrive on time.
According to the lawsuit, the newborn developed the disease while in the newborn intensive care unit. The nurses were feeding the infant Similac at the time. The lawsuit is based on research that cow's milk formula can cause NEC in premature infants. It is believed that these companies knew about the complications but did not act to recall the product leading to several preventable injuries and complications. The multi-district litigation is now before the courts, but there is unlikely to be a resolution soon.
The science behind the allegations 
A study published appears to indicate that children fed on human milk have a reduced likelihood of developing NEC and the number is startling: 90%. In 2011, the Surgeon General warned about the link between cow's milk formula and NEC and in recent years, more studies have been produced that seem to corroborate the plaintiff's claims.
To be sure, Similac is not the only company named in these lawsuits, and cow's milk allegations aren't the only ones being leveled at baby formula producers right now. Other companies are being accused of allowing too much lead in their formula which could result in metal poisoning, cognitive disturbances, and brain damage.
The plaintiffs, among other allegations, accuse Similac and similar companies of falsely marketing their products as safer than human milk and/or made of human milk. The advertising terms can come into play when filing a claim against a manufacturer of a product, especially when the advertising is potentially misleading.
What will happen? 
With multi-district and class-action lawsuits, the result is usually a settlement followed by bankruptcy or a settlement in which bankruptcy considerations are brought to the fore. With as many plaintiffs as there are in these baby formula lawsuits, settlements can go into the billions, especially when multiple wrongful deaths occur. Another consideration will be what the companies knew and when. The plaintiffs will provide evidence that cow's milk research indicated a higher potential for the development of NEC several years ago, but the companies never acted on this report or warned consumers about the potential dangers. In many cases, even the hospitals did not know which is why they are not being named in the lawsuit.
Talk to a Product Liability Lawyer in Florida 
Halpern, Santos & Pinkert have the litigation experience and resources you need to take on major corporations. Call our Florida personal injury lawyers today to schedule a free consultation and learn more about how we can help.
Source:
lawstreetmedia.com/news/health/abbott-labs-faces-similac-product-liability-class-action/