Should I Go To The Emergency Room Or Urgent Care After A Car Accident?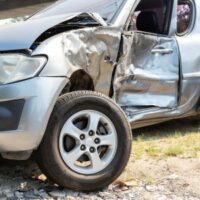 The Centers for Disease Control and Prevention has reported that there are typically more than 130 million people who seek treatment each year at an emergency room (ER). While this number declined greatly at many points during spikes in the COVID-19 pandemic, it will likely increase again to more normal numbers as things continue to stabilize in our country. And one very real reality is that car accidents never stopped even at the worst of the pandemic and people unfortunately continue to find themselves involved in them.
Why Do I Need Medical Care After a Car Accident?
It is imperative that you seek medical attention as soon as you can after the accident. In some cases, the adrenaline from the accident that is initially masking a medical issue wears off and it becomes clear that there may in fact be something going on that wasn't immediately clear. In some other situations, an injury only makes itself obvious in the hours and days following the accident. Ignoring symptoms, even if you initially think they are minor, can lead to complications later and can also affect your ability to pursue a personal injury claim for your injuries.
You should always pursue medical attention right away following an accident even if you're not in pain immediately and don't notice any obvious injuries. But what if you do in fact notice injuries? Is the ER necessary or is urgent care a better choice?
ER or Urgent Care? 
Which kind of medical facility you should visit post-accident depends largely on the extent of your injuries. You should always go to the ER for treatment if you have sustained serious or life-threatening injuries from a car accident. And in fact, visiting the ER may not be up to you if your injuries are deemed serious enough at the scene to necessitate being transported directly to the hospital so that you can receive immediate medical care. ERs are fully-equipped facilities that offer the advantage of:
Significant experience dealing with emergency medical situations
Accessibility of medical providers with a wide range of skill sets
On-site availability to obtain lab tests and results
Ready access to prompt imaging tests such as X-rays and MRIs
Urgent care centers, on the other hand, have a tendency to be cheaper and more affordable than ERs. However, these facilities are less advanced and usually do not have the ability to treat many of the more serious types of injuries that can be incurred in a collision. Showing up at one of these facilities with a serious injury means that you will probably be directed to the ER anyway. Visit urgent care centers solely for minor injuries and otherwise head to the ER.
We Can Help You Figure Things Out
In addition to the choice of where and how you seek medical assistance after your accident, you also have a choice when it comes to who you entrust afterward with helping you hold the accountable parties legally responsible. All legal teams aren't created equal and you deserve to have the help of someone you can depend on. At Halpern Santos & Pinkert, P.A., our team of dedicated Florida car accident attorneys will work hard to ensure you get the compensation you deserve. We have spent more than 60 years of time combined helping people in situations like yours and you can entrust us to treat you with dignity while fighting for the compensation you are entitled to. Contact us today to see how we can help during a free consultation.
Resource:
cdc.gov/nchs/fastats/emergency-department.htm