Sexual Assault on Airplanes: Legal Options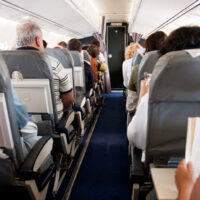 Airplanes pack people in like sardines, especially those flying in coach. It is not surprising to hear reports that sexual assaults are on the rise.
According to the New York Times, a former speed skater was arrested in November 2019 for sexually assaulting a female passenger seated beside him. He started by caressing her arm without her consent and then grabbed her crotch before airline personnel intervened. The plane had to be diverted so that the man could be removed. This sexual assault happened against a backdrop of increased violence on flights in the United States. FBI records, for example, show that sexual assault allegations have climbed over the past few years.
If you were assaulted on a plane, a sexual assault attorney at Halpern Santos & Pinkert, P.A. can discuss your legal options, including those listed below.
Press Criminal Charges
To protect yourself, you should immediately notify the flight crew if someone has touched you inappropriately. They can contact the captain and have the plane diverted, if necessary.
Once on the ground, you can talk to the police to press criminal charges for the assault. Realize, however, that criminal charges are not the only option that our clients have. Victims should also consider whether to bring a civil lawsuit.
Sue for Compensation
Civil suits are different from criminal suits. The goal of a civil suit is to compensate a victim for their losses, which can include the cost of medical treatment, lost wages, and pain and suffering. Sexual assault victims often suffer intense emotional anguish following an assault, which is deserving of compensation. Civil suits differ from criminal ones in a key way: a civil suit doesn't result in the defendant being sent to jail.
Sexual assault victims on airplanes might be able to sue multiple entities. First, you can sue the person who assaulted you. When someone touches you without your consent, they have committed a tort. However, these lawsuits often go nowhere, because the person might not have sufficient assets to compensate you.
Second, if the person who assaulted you was an airplane employee, you might be able to sue the airline under a concept of "vicarious liability." This doctrine makes employers liable when their employees hurt someone in the course of employment.
A third option is to sue the airline for failing to provide adequate security. Airlines must take reasonable steps to ensure the safety of their guests. Imagine if you or another guest complained about a passenger, but the airline did nothing. An airline that adequately protects the safety of its passengers should move them out of the way so they cannot hurt other people.
Speak with an Experienced Attorney
Building a case against an airline is complex. These companies vigorously defend themselves against any accusation they were negligent, so a victim needs an attorney who knows how to collect the necessary evidence.
Contact Halpern Santos & Pinkert today. Our Florida sexual assault lawyers have sued some of the largest companies here in the state, so we are not intimidated to be sitting across the table from them and their army of defense attorneys. If you call, you can schedule a free consultation today.
Resource:
nytimes.com/2019/11/08/us/american-airlines-passenger-groping.html