Rock 'N Play Sleepers Linked To 100 Infant Deaths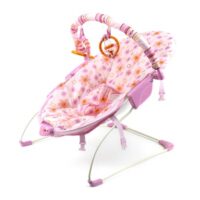 Fisher Price's Rock 'N Play sleepers have been linked to over 100 infant deaths thus far including 30 after the product was recalled over three years ago. The sleeper was first pulled off the shelves in April of 2019 amid numerous reports that infants died after rolling onto their stomachs or sides. It is believed that the sleeper's 30-degree incline is primarily responsible for the deaths.
While the sleepers are no longer for sale, they are still out there and being used by parents who are unaware that the sleepers are potentially deadly. The Consumer Product Safety Commission has thus issued a second notice to hopefully prevent more deaths.
The government issued a second recall against a sleeper product manufactured by a different company that is believed to be responsible for 15 infant deaths.
Stories 
One couple claims their child stopped breathing "within minutes" of being placed in the sleeper. Numerous couples have woken up to find their child dead. In this case, the sleeper is believed to be directly responsible for the deaths. The sleeper allows an infant's head to be placed in a position where they cannot breathe. The sleeper makes it possible for the infant to die in several ways due to asphyxiation.
Choking hazards and more 
Humans are unique among God's creatures because we have a descended windpipe. The descended windpipe allows us to control our speech and the rest is history. It also makes us uniquely susceptible to a choking hazard because our gullets and windpipes are in the same location. It also means that infants are susceptible to suffocation based on the position that their head lays in.
Allegations against Fisher-Price 
Plaintiffs are accusing Fisher-Price of failing to act decades ago when it became aware of the deaths. Fisher-Price will contend that there was no reliable scientific evidence that could lay the blame at the feet of their company at the time of those deaths. In fact, they'll say they assumed the matter was SIDS based on the advice of medical experts they contacted during the matter.
In reality, they likely had medical experts telling them that this was SIDS and other medical experts telling them that the ergonomics of their product were increasing the risk of "SIDS". They believed what benefited them.
In other words, this product could have been recalled earlier, potentially preventing several deaths. However, those are only allegations at this point. A jury will determine what Fisher-Price knew and whether they should be punished for failing to issue a recall earlier.
Talk to a Florida Product Liability Lawyer Today 
Halpern, Santos & Pinkert represent the interests of Florida residents injured by dangerous products. Call our Florida personal injury lawyers today to schedule a free consultation and learn more about how we can help.
Source:
theshaderoom.com/fisher-prices-rock-n-play-sleepers-linked-to-100-infant-deaths-including-dozens-after-product-recall-alone/