Reacting To A Minor Florida Car Accident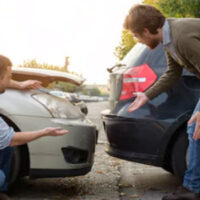 We all try to stay away from car accidents as much as possible by keeping ourselves alert on the road and looking out for cars that are operating erratically. However, car accidents are an unfortunate part of life and cannot always be avoided. As a grim example of this, there were roughly 12 million vehicles involved in car accidents in the United States in 2018 alone. Finding yourself involved in a car accident can be an extremely difficult scenario even when it is seemingly just a minor one. Therefore, it is important to understand in advance exactly what you should do in the aftermath just in case this situation ever happens to you.
Pull Over
Initially, you should recognize that it is generally against the law in the Sunshine State to leave the scene of any car accident. In addition to the fact that you could face criminal charges for a hit-and-run if you continue driving without stopping after an accident, this will also be looked at unfavorably if you are in fact more injured than you initially thought and later realize that you would like to pursue a personal injury claim. Following any accident, you should always pull over in a safe place outside the line of traffic to see whether there are any injuries or property damage.
Get Authorities Involved
You should also always call 9-1-1 and summon the police to the scene even after what seems to be just a minor car accident once you and your vehicle are in a safe place and you have assessed whether anyone has injuries. It is also crucial that you have authorities record the details of the accident in a police report prior to them leaving the scene.
Document the Incident
In addition, document the accident as much as possible in order to help protect yourself and preserve your right. You should:
Exchange names and insurance information with the other driver
Record the names and contact information for any witnesses at the scene
Write down the name and badge number of all responding officers
Take pictures of the scene of the accident from different angles, including of both vehicles, any skid marks, and any physical damage present at the scene from the impact
Obtain Legal Help After Your Florida Car Accident
In some cases, people involved in car accidents walk away relatively unharmed. However, in other circumstances, those traveling along Florida's roadways inadvertently become the victim of someone else's negligence while doing their best to adhere to road rules and make it home safely. If you or a loved one has been injured or suffered harm because of someone else's reckless or negligent actions, you should speak with an experienced legal team about whether pursuing a personal injury claim may be an ideal option. As the knowledgeable Florida car accident lawyers at Halpern Santos & Pinkert, P.A., you can depend on us to help you fight for the financial compensation you deserve. We have been helping accident victims throughout Florida seek recovery for more than six decades combined so you know we will not settle for anything less than what you need to move on with life after your accident. Contact us today to begin with a complimentary consultation.