Product Liability: Nissan Sued After 3 Die In Rollover Accident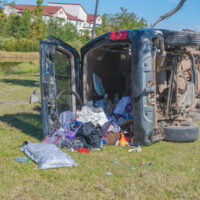 The families of three individuals who died in a rollover accident have filed a product liability lawsuit against Nissan claiming that defective design posed an unreasonable danger to drivers, passengers, and other commuters. The accident, which occurred in 2017, involves a 2004 Nissan Xterra SUV. According to the plaintiffs, the vehicle was not equipped with electronic stability control or "vehicle dynamic control" which is a system that prevents rollover accidents and helps drivers maintain the vehicle's stability if the sensors detect too much yaw. The plaintiffs also argued that Nissan failed to conduct proper rollover testing and their seatbelt system failed to keep the passengers in the vehicle.
Nissan has argued that the driver who caused the crash is responsible for the accident and their vehicle met all applicable safety standards. Vehicle dynamic control would not have been mandatory in 2004 when the Xterra was manufactured. Similar systems have become standard in Europe and the U.S. since 2011.
Understanding the allegations 
The lack of a safety feature is often the basis for product liability lawsuits. In a product liability lawsuit, you don't need to prove that a company was negligent, you simply must prove that you were injured in the normal use of their product. In most cases involving cars, it is the failure of a safety feature that results in the lawsuit. It is less typical that you will see the absence of a safety feature as an allegation in a lawsuit. In this case, Nissan had no duty to apply the technology to their vehicles. The 2004 Xterra appeared to receive good ratings from independent consumer groups who tested the vehicle.
The last argument is that the seatbelts failed during the crash and that the victims were found outside of the vehicle. The defense has argued that the passengers were not properly using their seatbelts. However, seatbelts are easy to use. It remains unclear how you can improperly use one other than by not using it at all. If the seatbelts failed during the accident, however, Nissan would be liable. It's hard, however, to believe that all three seatbelts failed at the same time.
The plaintiffs will have to establish that Nissan's liability in this matter is a causal factor in the three deaths. While the accident itself may have been unavoidable, companies have standards in place to avoid deaths caused by serious accidents. In this case, some of that available technology was not employed while the tech that was employed failed. At least that's what the plaintiffs believe. The trial is expected to last two weeks.
Talk to a Florida Product Liability Attorney Today 
The Florida personal injury lawyers at Halpern, Santos & Pinkert file lawsuits on behalf of those injured by dangerous or defective products. Call today to schedule a free consultation and we can begin gathering evidence to support your claim.
Source:
blog.cvn.com/product-liability-trial-over-triple-fatality-rollover-involving-nissan-suv-begins