LG TVs Recalled Due To Tip-Over Risk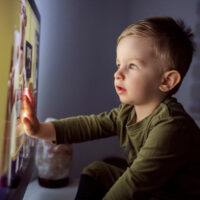 Buyers of certain LG TV models are being instructed to detach the stands amid a risk that they are unstable, can collapse, and injure children. The affected model numbers include:
86UQ8000AUB,
86UQ7070ZUD,
86UQ7590PUD, and
86NANO75UQA.
Users can check the serial number by hitting the mute button on the remote control three times. The affected serial numbers include
02RM,
203RM,
204RM,
205RM,
206RM,
207RM,
or 208RM.
The majority of the recalled TVs were sold in September of 2022 at Walmart, Best Buy, Costco, and other major retailers.
Those who purchased the 86-inch smart TV are being encouraged to detach the stands, and place the television somewhere safe until a replacement can be found. As of now, there have been reports of 12 tip-over accidents. No injuries have been reported.
Those who mounted their TVs on their walls do not need to worry about the tip-over risk.
What happens if I'm injured by a defective stand? 
There will first be a question as to whether or not the stand was assembled correctly. If not, then the product manufacturer can claim the defective stand was an assembler error. In this case, you have multiple tip-over reports. So, it would be difficult for the company to claim operator error is responsible for all 12 reports of unstable stands.
So, let's say that you purchase a TV, you assemble the stand, and a week later, it falls over on you, and you break your hip. Now, you can claim that your hip would be fine but for this defective TV stand that you purchased from Walmart. I now have medical expenses, I'm losing wages, and I'm not sure if I'll ever be able to run and jump again.
In that case, the product manufacturer would be 100% liable for your injury, with subsequent claims for liability against the distributor. So, you would be able to claim that LG and Walmart are responsible for your injury, and recover damages in accord with the extent of your injuries and the losses suffered because of them.
Talk to a Florida Product Liability Lawyer Today 
Has a TV recently fallen on you? If so, then you may be entitled to compensation. Call the Florida personal injury lawyers at Halpern, Santos & Pinkert today to schedule a free consultation and learn more about how we can help.
Source:
fox29.com/news/lg-recalls-52000-smart-tvs-tip-over-risk#:~:text=LG%20has%20recalled%20more%20than,that%20weigh%20about%20100%20pounds.