Lawsuit: Lead, Cadmium Found In Hershey's Dark Chocolate Bars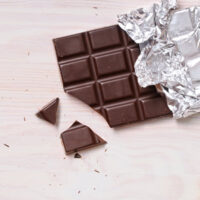 Did Hershey fail to disclose the presence of lead and cadmium in their dark chocolate bars? A recent lawsuit accuses the company of failing to disclose the presence of toxic metals in foodstuffs.
In this case, the label only includes ingredients for dark chocolate, not lead or cadmium, which Consumers Reports found to be illegally abundant. The plaintiffs claim that the marketing around the dark chocolate is misleading and deceptive and that most people would not eat something that could cause heavy metal poisoning.
Who is at risk for heavy metal poisoning? 
If you regularly eat dark chocolate, then you may be at risk for heavy metal poisoning. As of now, there are regulations in place that force companies to report the amount of cadmium or lead in their product if it surpasses a specific level. However, the levels are highly conservative and meant to protect those most at risk. Those most at risk are children, so parents need to know that dark chocolate should not be given to children on a regular basis.
Anyone who eats dark chocolate in moderation should not be impacted by having a couple bars a week. Those who regularly eat dark chocolate and are in a risk group could face serious injury.
The window of potential injury victims 
So, who is going to be able to file a personal injury lawsuit against manufacturers of dark chocolate? Well, probably someone who habitually eats dark chocolate and is already susceptible to heavy metal poisoning. Even if the companies are in compliance with government regulations, a plaintiff who can prove injury due to a specific product will have a strong argument regardless. Regulations are guidelines for companies to follow, but often represent the bare minimum of care.
I would think that consumers who are concerned about heavy metals or been told by doctors to avoid heavy metals do deserve to know that they are at increased risk by eating certain foods. Even if it's impossible to get all the cadmium out of the dark chocolate, people need to know that there can be an interaction.
So, in terms of the consumer fraud complaint, it remains unclear whether the companies can be held responsible if their cadmium levels were in compliance. However, that wouldn't prevent an injured customer from filing a lawsuit if they suffered an injury due to heavy metal toxicity.
Talk to a Florida Product Liability Lawyer Today 
Halpern, Santos & Pinkert represent the interests of Florida residents injured by dangerous products. Call our Florida personal injury lawyers today to schedule a free consultation and learn more about how we can help.
Source:
npr.org/2022/12/30/1146254933/hersheys-lawsuit-dark-chocolate-heavy-metals-lead