Kia Announces Recall After Product Liability Lawsuit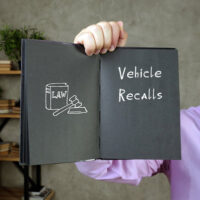 In most cases, auto companies issue recalls after they catch a problem with their vehicles. However, in some cases, it's customers who find the problem, become injured, file a lawsuit, and then the auto manufacturer issues a recall. This is dangerous for the auto manufacturer because it's tantamount to admitting liability in their lawsuit. However, sometimes plaintiffs do a good job of proving their case, proving that a hazard exists, and then the best play for the auto manufacturer is to prevent more lawsuits by issuing a recall.
Kia issued a notice stating that they were recalling over 200,000 2012-2013 Optimas due to a problem with the vehicle's airbag. The airbag can catch the headliner plates in the cabin's ceiling during deployment resulting in the plates detaching. According to the notice, a plate that detaches during an airbag deployment can strike a passenger or driver increasing the risk of injury.
In this case, Kia issued the recall after a customer alleged that a metal bracket struck them while their airbag was deploying. Dealers are being instructed to place industrial-grade tape over the plates so that they don't detach while the airbag is deploying.
How do I know if I have a valid airbag lawsuit? 
Airbags are not exactly pillows. They're meant to deploy with a great deal of force and ensure that a driver's head doesn't strike the windshield or other components within the vehicle. In some cases, they will cause injury regardless of how well they are designed. Injuries to the neck are common in car accidents. Not all of these can be blamed on the airbag. Humans are expected to suffer some injury in a car accident. The airbag saves more lives and prevents more serious injuries than it causes. So, if the airbag deploys as expected, then the case against the manufacturer is usually not going to be actionable. You'd still have the option of suing the other driver involved in the crash.
Airbag lawsuits are actionable when the airbag acts in a manner that is not anticipated or expected by either the driver or the company that manufactured the airbag. The worst cases of airbag torts involved Takata's exploding airbags which caused the deaths of 28 people worldwide. Since airbags are not supposed to explode, Takata (the company that manufactured the airbags) was held liable for the deaths.
Customers can and should file product liability lawsuits against car manufacturers if their airbags fail to deploy as expected, deploy improperly, deploy for no good reason at all while you're driving, or cause an injury not associated with car accidents.
Talk to a Florida Product Liability Lawyer Today 
Halpern, Santos & Pinkert have the resources and experience to take on large corporations in product liability lawsuits. Call our Florida personal injury lawyers to schedule a free consultation and learn more about how we can help.
Source:
topclassactions.com/lawsuit-settlements/consumer-products/recalls/kia-recall-announced-for-potentially-loose-ceiling-plates/