Injuries At Sport Venues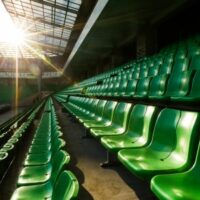 Florida is home to a dozen professional sports teams and hosts such world-famous sporting events as the Daytona 500, the Miami Open, and the Super Bowl. For those whose interests run to collegiate athletics, our state offers dozens of colleges who participate in all major American sports. Millions of people head out to a sports venue to watch athletes compete every single year, and it should be no surprise that some of them return home injured.
If you were hurt as a spectator, you might be unsure of whether you can sue. Fortunately, one of our Florida premises liability lawyers can review your case to determine the best path toward compensation.
Types of Accidents & Injuries
Spectators can be injured in many ways while attending a sporting event. Some of the more common include:
Slip and fall or trip and fall. Objects on the floor can create a hazard that causes an unwary spectator to fall, injuring themselves. Debris, boxes, paper wrappers, and spilled liquids can all conspire to upend a spectator. The venue owner must take reasonable steps to ensure that the floors are safe for visitors.
Collapsing structures. An improperly maintained or constructed venue can partially collapse, causing injury. Bleachers can collapse, handrails can fall off, and tiles can break loose from the ceiling.
Food poisoning. Many venues sell food, which might make you sick. Food can become contaminated quite easily due to poor refrigeration, improper handling, or cross-contamination.
Many spectators become violent at sporting events, especially after drinking alcohol. With emotions running high, spectators can assault each other in the stands or parking lot.
Airborne objects. Bottles and other objects can come raining down from higher tiers in the venue, striking a person on the head. In other situations, a hockey puck or baseball could fly into the stands and hit someone. In 2013, a crash on the last lap of the Daytona 500 sent car parts flying into the stands and injured 30 spectators.
Car or pedestrian crash. Traffic is a nightmare around most venues, and impatient motorists can pass illegally or take an aggressive action that leads to a wreck.
These accidents can lead to serious injuries, including fractures, nerve damage, concussions, and spinal cord injuries.
Bringing a Claim for Compensation
Who you can sue will depend on the type of accident you were involved in. For example, if you were struck by a motorist, then you can seek compensation using your PIP policy or by bringing a claim against the negligent driver.
In many cases, however, you might sue the venue or the company that has rented it. Your premises liability attorney can investigate to identify who has ultimate responsibility for keeping the premises reasonably safe. Unfortunately, many venues cut corners when it comes to hiring event security or cleaning the premises, and our clients pay the price.
In other accidents—such as with food poisoning—a vendor could be at fault. You would then need to make a claim with them.
Call Halpern Santos & Pinkert, P.A. Today for a Free Consultation
Stadium operators and vendors should have business liability policies that cover injuries. Accidents at sporting venues often make the news, and defendants have an incentive to settle quickly to protect their reputations. Before agreeing to any settlement offer, contact our lawyers at Halpern Santos & Pinkert, P.A. to review.
Resource:
cbsnews.com/news/horrifying-crash-at-daytona-exposes-risks-to-fans/