Infant Daughter Receives $6M After Father Killed In Traffic Accident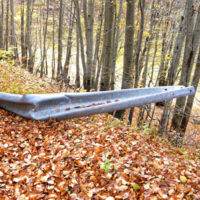 The infant daughter of a 28-year-old man will receive $6 million after a settlement was reached with an ice cream company operating a box truck. According to the lawsuit, the ice cream truck attempted to illegally pass a tractor-trailer in a no-passing zone around a blind curve. The ensuing accident forced the plaintiff's pickup truck from the road where the 1997 Chevy Silverado caught fire. The driver of the pickup was killed as was the driver of the ice cream truck. However, since the driver of the ice cream truck caused the accident that resulted in the untimely death of another driver, it's the ice cream company that will foot the bill for the family's losses.
The $6 million settlement was the policy limit for the commercial insurance license of the ice cream truck company. The settlement will be disbursed when the child turns 18 years of age. By that time, the interest will make it around $14 million.
Allegations against the ice cream company 
The driver caused the accident, but how did the driver come to be entrusted with a commercial vehicle, and did the driver have the proper certification? In this case, the driver did not. In order to operate an ice cream truck in the state in which the lawsuit was filed, the driver would have needed a professional commercial license similar to those provided to chauffeurs. The driver did not. The company, therefore, broke the law when they allowed the driver to get behind the wheel of an ice cream truck. In other words, the lawsuit was filed on the grounds of negligent entrustment.
If you're wondering whether or not you can be sued for negligently entrusting your personal vehicle to your children, the answer is yes. Lawsuits are filed—not against drivers—but rather auto insurance policies that are tied to the vehicle—not the driver. In other words, if your teenager causes a major accident, the policyholder is liable, not the teenager unless the vehicle is insured in their name.
It's fair to ask whether or not the driver of the ice cream truck can sue his employer for placing him in a dangerous position without the required certification. The answer is possibly, but the suit was likely prevented due to workers' compensation immunity. Since the driver of the truck was employed by the ice cream company that was later sued for wrongful death, the driver cannot sue his employer for personal injuries resulting from accidents within the context of his employment. Instead, the family will receive death benefits from a workers' compensation policy, significantly less than the daughter of the victim will receive.
Talk to a Florida Commercial Truck Accident Lawyer Today 
Injured by a negligent truck driver? Call the Florida personal injury attorneys at Halpern, Santos & Pinkert today to schedule a free consultation and learn more about how we can help.
Source;
gasconadecountyrepublican.com/stories/wrongful-death-lawsuit-settled-for-45-million-in-us-50-crash,49516