Improperly Installed Guardrails Cited In Amputation Accident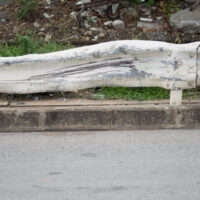 In 2010, a man in a pickup truck nearly lost his life when a guardrail sheared off and impaled the truck severing his leg. Now, more than 13 years later, he has spoken about the incident for the first time. But the problem hasn't been fixed.
Throughout Florida, there is an unknown number of improperly-installed guardrails. Instead of folding and absorbing energy properly, they can split and shear creating sharp metal shrapnel that's capable of impaling the engine block of a standard pickup truck.
He is not the only individual to have a run in with a defective guardrail or defectively-installed guardrail. Throughout the U.S., people have lost their lives either to defectively-designed guardrails or guardrails that were not properly installed.
Now, the State of Florida has to go over every guardrail to ensure that it has been properly installed and avoid future preventable accidents.
Understanding the issue 
When a vehicle hits a guardrail, there is a presumption that the guardrail will do two things. First, absorb the energy of the truck, second, prevent the truck from ending up in a ditch. While this is not preventable in 100% of situations, the guardrail can help avoid serious accidents from becoming worse. That is, unless it contributes to the accident, which is what we're seeing here. An accident like this plaintiffs should have resulted in minimal injuries, a complete recovery, and full quality of life. Instead, this man no longer has a leg.
Who is being sued? 
As of right now, only the Florida Department of Transportation has been named in the lawsuit. However, it is typical of suits like this to accuse the guardrail manufacturer of negligence as well. In this case, the guardrail manufacturer is not named. We can infer one of two things from this. Either the company has been sued into oblivion and no longer exists, or the plaintiffs genuinely had no basis for accusing them of negligence. Neither would be good because the plaintiff would be stuck suing the government as opposed to a private entity. The government can cap your damages award at $200,000. The loss of a limb would typically pay ten times that, perhaps more depending on the type of occupation the plaintiff had and whether or not they could return to work.
$56 million against guardrail company 
In Missouri, this wasn't a problem. The government was able to recover $56 million after it was determined that a guardrail company failed to disclose changes that would have changed the way the guardrails were installed. These issues led to accidents and injuries and the government was forced to conduct a review of the guardrail system. The government filed suit against the company to fund the project and won. Florida may have been on notice and thus does not have grounds to recover those funds.
Talk to a Florida Highway Safety Lawyer Today 
Halpern, Santos & Pinkert file personal injury lawsuits on behalf of Florida residents who have been injured in car accidents. Call the Florida personal injury lawyers today to schedule a free consultation and learn more about how we can help.
Source:
wtsp.com/article/news/investigations/10-investigates/guardrail-florida-traffic-crash-investigation/67-58d76ccc-3127-491a-97c6-d4fd8f236970