How Does A Wrongful Death Suit Work In Truck Accidents?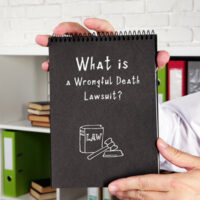 A wrongful death lawsuit is a personal injury lawsuit that is filed on the grounds of familial loss. So, while the estate of a deceased person can and does file suit to recover damages, the survivor claims are meant to compensate family members for their loss.
Florida allows family members to file survivor claims on truck accident lawsuits. There are few, if any, barriers under the law to do so unless you're filing a medical malpractice claim. Survivor claims are generally filed by spouses, children, and other dependents. They allege that the family has suffered serious economic and emotional losses and those deserve to be compensated.
Who can file a wrongful death lawsuit? 
Wrongful death lawsuits are filed by both the estate of the deceased and surviving family members. The estate recovers economic damages such as burial expenses and costs related to hospitalization or medical services rendered to the victim.
Family members file survivor claims on the grounds of the loss of companionship, grief, and the loss of consortium. They can also file claims related to the loss of economic support.
How do I discuss this with a lawyer? 
Most folks come into a lawyer's office looking for answers to questions they don't fully understand. To be sure, you are entitled to compensation when a company negligently employs a driver who causes a fatal accident. There are few legislative barriers to get the suit in front of a jury. Your lawyer's job is to ensure that you are compensated for all of your injuries and to protect the value of your claim.
Should I settle? 
A civil defense lawyer who knows you need money now will leverage that to force a quick settlement, so the answer is almost always "no". You need to know that a settlement is a chit you are offering the defense to avoid the cost of litigation. The civil defense team is obligated by law to ensure you receive as little compensation as possible, even for a valid claim. So, they can win a lawsuit even if they pay you.
If a similar claim pays out for $10 million and they only paid $2 million, that's a win for them. In most cases, the claim is taken up by the company's insurer. They make money by reducing the value of claims as much as I can. So, that's what the battlefield looks like.
Hire an Experienced Lawyer
 The personal injury team at Halpern, Santos & Pinkert has the experience you need to successfully resolve a personal injury claim for the right amount of money. We will go over the details of your wrongful death claim, the weight the loss has placed on your family, and the impact it will have on your children's future, and ensure that you are compensated for everything. Call our Florida personal injury lawyers today to schedule a free consultation and we can begin discussing trial strategy immediately.