Expensive Umbrella Recalled After Fire Hazard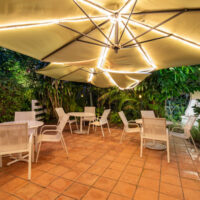 Have you ever wanted to pay $700 for an umbrella? Well, now you can. However, you can save a lot of money by purchasing a similar product at Costco. The only problem with the $130 umbrella is that the lithium-ion battery and the solar panels that provide power can catch fire. This has resulted in the company issuing a voluntary recall.
The product is one of a line of deck umbrellas that keep you shaded during the day and provide ambient lighting at night. Why these umbrellas are so expensive remains unclear. They have solar panels that charge a lithium-ion battery. The energy is used to provide lighting at night.
The recall was issued after reports of six of the panels overheating and igniting the lithium-ion battery. Three of these occasions happened while the umbrella was charging indoors. One injury was reported by a consumer who inhaled smoke after the umbrella caught fire.
Understanding lithium-ion battery lawsuits 
Lithium-ion battery lawsuits are nothing new. Tesla has been facing a slew of these lawsuits related to its various models of automobile. In one case, a man died because he was unable to get out of a Tesla that had caught on fire. The electronic locking mechanism prevented him from exiting the vehicle. In other cases, Teslas have been known to spontaneously ignite. While the problem isn't exclusive to Tesla, these notable cases tend to make the most headlines.
Part of the problem with lithium-ion battery fires is that they are notoriously difficult to put out. When firefighters come to the scene of a lithium-ion battery fire, they have to manage the incident in a very intentional way. Lithium-ion battery fires have been known to reignite long after firefighters believe that the fire is out.
Lawsuits involving lithium-ion batteries 
Lithium-ion batteries have resulted in many personal injury and property damage lawsuits. When the lithium-ion battery ignites while a vehicle is in a garage, the fire can spread to the rest of the house. In other cases, smartphones have been known to overheat causing burn injuries on legs and hands. Exploding vape pens have also been reported.
The designer of a product that defectively integrates a solar panel with a lithium-ion battery is responsible when the product causes property damage or injury. While umbrella-related injuries remain relatively rare, lithium-ion battery injuries continue to cause problems for American consumers.
Nonetheless, the technology is not going anywhere. In 99% of cases, lithium-ion batteries are safe. They are necessary to power everything from smartphones to cars and even umbrellas. Lawsuits related to lithium-ion batteries generally allege that some product was defectively designed and failed to mitigate known safety risks.
Talk to a Florida Product Liability Attorney Today 
Halpern, Santos & Pinkert represents the interests of those who have been injured by defectively-integrated or manufactured lithium-ion batteries. Call our Florida personal injury lawyers today to schedule a free consultation and we can begin discussing your claim immediately.
Source:
bestlifeonline.com/news-costco-umbrella-recall/