Court Awards Damages To Family After Birth Injury Due To Fetal Heart Rate Monitoring Error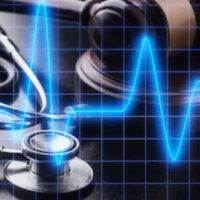 Except while exercising, most adults have a heart rate of 100 beats per minute or less.  Fetuses, by contrast, have a much faster heart rate.  At about six weeks of gestation, the heart rate is similar to an adult's heart rate, but it gradually gets faster until it peaks at about 175 beats per minute at nine weeks and then gradually slows down to about 130 beats per minute in the third trimester; of course, the fetal heart rate fluctuates depending on how active the fetus is at a given moment.  If you saw your unborn child's heart rate on an ultrasound, the number of beats per minute was probably the farthest thing from your mind unless the doctor told you that your baby's heartbeat was abnormal.  During birth, a prolonged slow heart rate can be a sign that the baby is not getting enough oxygen and requires medical intervention, sometimes even an emergency Caesarean birth.  If your child's ongoing health problems are due to a preventable medical error that took place during or before the child's birth, contact a Florida medical malpractice lawyer.
Hospital Staffing Firm Must Pay $30.6 Million to Injured Boy and His Family
Cross Country Healthcare is a hospital staffing firm based in Boca Raton, Florida.  It employs nurses and other healthcare professionals who work in hospital settings in many states.  In 2013, Kim Boulter gave birth to her son Aiden at a hospital in Massachusetts.  A nurse employed by Cross Country was monitoring the baby's heart rate using a hand-held device; the nurse was working at that hospital on a temporary basis, but she had over 30 years of experience as a labor and delivery nurse.  Every time the nurse checked the heartbeat, she noticed that it was within the normal range, but what she was actually detecting was the mother's heartbeat.  The baby's heartbeat was much lower, as the nurse, obstetrician, and midwife would have been able to see if they had been doing continuous electronic fetal monitoring.
When Aiden was born, his heart rate was dangerously low and he was not breathing on his own, since the umbilical cord had become wrapped around his neck during delivery.  Because of the oxygen deprivation he suffered during birth, he suffers from lifelong disabilities.  He has never walked or spoken, and he has never fed himself or used the toilet without assistance.  He will require extensive medical care throughout his life.  Kim Boulter and her husband Daniel filed a medical malpractice lawsuit against Cross Country and other defendants when Aiden was a newborn.  In 2019, when Aiden was six years old, a court awarded the family $30.6 million in damages, which includes the amount needed for Aiden's care, plus noneconomic damages.
Reach Out to Us Today for Professional Help
A medical malpractice lawyer can help you recover compensation if the doctors and other medical personnel deviated from the standard of care during your child's birth, resulting in a birth injury.  Contact Halpern Santos & Pinkert, P.A. in Coral Gables, Florida to discuss your case.
Resource:
bostonglobe.com/metro/2019/05/16/feel-never-should-have-happened/GVWU8wKF5DQOeb3GOJ57NK/story.html