BrushX Styler Recalled Due To Electrocution Risk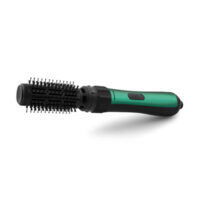 100,000 supercharged hairbrushes have been recalled due to an electrocution risk. According to the recall, the devices lack immersion protection which can pose a significant shock hazard if the brushes fall into water while plugged in.
BrushX, the manufacturer of the product, is recommending that those who use the product regularly stop doing so immediately, literally cut the cord, and then email a picture of the product with the cut cord to BrushX. Anyone who does so will be sent a free BrushX with immersion protection as a replacement.
This isn't the first time that a hairdryer or haircare product has been sold without immersion protection. U.S. safety standards for products tend to be much higher than other countries. These particular hairdryers were manufactured in China. Hundreds of thousands of vendors now market their products on Amazon. Not all of these products meet the minimum safety standards. Hair dryers were among those products targeted by U.S. regulators for posing a safety risk to American consumers. They were also made in China and did not have immersion protections. The U.S. filed a lawsuit against Amazon in an attempt to stop the sale of these items.
Understanding electrocution lawsuits 
When a company makes a product, they are strictly liable for any injuries it causes. That means the rules regarding the standard of proof are much lower in product liability lawsuits than they are in other negligence lawsuits. A plaintiff need not necessarily prove that the company was negligent. In this case, obviously, they were. They designed a device that failed to meet minimum product safety requirements. As of now, there have been no reported injuries related to the BrushX Styler, but if there were, the company would be liable for those injuries.
To defeat an electrocution lawsuit claim, the company would need to prove that the device was tampered with or modified in some way, or that the customer used the device in a way that they could not anticipate. However, the company still has a responsibility to meet minimum safety standards when introducing their product into the stream of commerce. Once the product is in the stream of commerce, they are liable. If they fail to follow safety regulations, they can face multiple lawsuits from regulatory authorities and private citizens who are injured or economically impacted by the purchase of a dangerous product.
Talk to a Florida Electrocution Injury Attorney Today 
If you have been injured due to a faulty product, the Florida personal injury lawyers at Halpern, Santos & Pinkert have the resources you need to take on a well-funded civil defense team. Call today to schedule a free consultation and discuss your situation in greater detail with a seasoned professional.
Sources:
topclassactions.com/lawsuit-settlements/consumer-products/beauty-products/recall-check-100k-hot-air-hair-styling-brushes-recalled-due-to-electrocution-or-shock-hazard/
npr.org/2021/07/15/1016512896/us-consumer-agency-sues-amazon-to-recall-dangerous-products#:~:text=A%20federal%20agency%20is%20suing,of%20serious%20injury%20or%20death