Bellwether Trial For Exactech Lawsuits Scheduled For Later This Year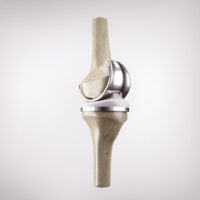 Currently, several lawsuits have been filed against the medical device manufacturer Exactech and a major recall was issued for their knee replacement devices. According to the lawsuit, the plastic cartilage in the knee replacement can oxidize, weakening the plastic and causing the premature failure of the device. This has resulted in patients requiring secondary surgeries to replace the defective cartilage.
If you've had an Exactech Optetrak or Exactech Truliant knee replacement device installed, you are part of the recall. The plastic cartilage in your knee replacement will likely not last as long as you were initially told.
Thus far there are two separate class-action lawsuits filed in separate districts. The lawsuit that has advanced furthest is the Florida State class action filed in Gainesville where Exactech has its headquarters. A bellwether trial has been tentatively scheduled for sometime next year.
What is a bellwether trial? 
A bellwether trial is a lawsuit that is filed on behalf of an entire class of victims that gives attorneys and the court a sense of what the jury thinks is fair compensation to the victims. It's unclear if jurors will be deciding whether or not Exactech was negligent or has a viable product liability defense to these claims.
For example, Exactech can claim that improper storage of their devices resulted in injury to patients or that the doctors in these cases failed to install the device properly. In medical device lawsuits, it is common for the device manufacturer to blame the doctor for the injury and vice versa. It's still too early to tell what arguments will be made by the plaintiffs and how the defendants will defend against the claims.
How has Exactech responded? 
In a rare display of humility, Exactech has admitted the problem. This means that they are unlikely to deny the allegations on the grounds of a failure to prove negligence. It is likely that they will only attempt to limit the damages of the plaintiffs. In this case, the strategy is likely to be a successful one. The FDA has ruled this a "class-2" recall which means that patients will only suffer temporary discomfort and not be left with permanent injuries. In other words, all the problems that the knee replacement caused are correctable which will limit the plaintiff's damages.
Exactech may be on the hook for knee replacement and compensating customers for the nuisance of having to go through a second surgery. The bellwether trial would then only be to determine what damages are appropriate for an individual who suffered certain types of complications.
Talk to a Florida Product Liability Lawyer Today 
Halpern, Santos & Pinkert represent the interests of Floridians injured by dangerous products. Call our Florida personal injury lawyers today to schedule a free consultation and learn more about how we can help.