Amazon Driver Blamed For Death Of Two-Year-Old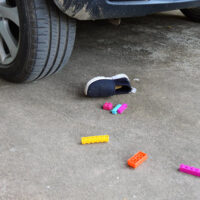 A California family has announced their intention to sue after their two-year-old daughter was killed by an Amazon truck driver.
Amazon has taken several litigation hits in recent years, but its relationship to its drivers has become a major point of concern. Why? The companies that make Amazon's deliveries are not considered a part of the company. This allows Amazon to create the illusion of separation between two companies when they are actually a subsidiary. It means that the company Amazon itself cannot be sued, or at least it creates a legal barrier to suing Amazon over a truck accident.
Nonetheless, Amazon's app allows the company to exert considerable control over the drivers meaning that Amazon can contribute liability to the matter. The issue is simply made more difficult because Amazon can throw up another softball to dismiss a suit on the grounds that the real defendant is this other company.
Should Amazon be held liable? 
Absolutely. Their app makes it difficult for drivers who are running behind and their livelihood is threatened if they "fall behind the rabbit" as the app puts it. The app thus creates an unreasonable pressure that makes drivers drive carelessly, prone to road rage, and prone to making decisions that are in the best interests of customers, but fail to meet the needs of society at large. Hence, Amazon is contributing to unreasonably dangerous roads. So, when a tragedy happens, they should be held responsible.
Ultimately, Amazon has made it more difficult to assert such claims, but they must be held responsible for contributing liability in this matter. You can't just draw up a document that states you're not responsible. But Amazon can afford to hire the best lawyers in the country to structure their corporation. So, they're harder to sue than other companies and often, it takes a lawsuit like this to get them on the right side of the environment they've managed to thrive in.
Wrongful death arguments 
At this point, Amazon is refusing the family's requests to turn over dashcam evidence and employee information. Amazon still claims that it's not their responsibility to vet drivers, ensure compliance, or anything else. They want complete control and no responsibility. There is no legal theory that allows that to happen. If Amazon is successful in sectioning themselves off from such lawsuits (and that looks unlikely) legislators will move to close the loophole eventually.
At this point, the family can argue that driver error was actionable and that the app contributed to the pressure that made the driver less careful. Since this pressure exists, and it contributes to the negligent behavior of the driver, Amazon shares in the liability regardless of its creative corporate structure.
Talk to a Florida Truck Accident Attorney Today
 Halpern, Santos & Pinkert represent the interests of Florida residents injured by commercial delivery trucks. Call our Florida personal injury lawyers today to schedule a free consultation and learn more about how we can help.
Source:
ktla.com/news/local-news/orange-county-family-files-lawsuit-against-amazon-after-truck-driver-kills-2-year-old-girl/