Earphones Targeted For Fire, Burn Injury Hazard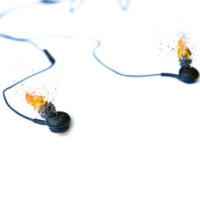 E-Filliate Inc. has recently been hit with a class-action lawsuit alleging that its earphones are prone to overheating while they charge and this creates a fire hazard. The company has been on notice since the Consumer Product Safety Commission (CPSC) received 4 dozen complaints concerning the earphones. Some complained that the earphones burst into flames while they were charging while others suffered burn injuries as a result of the faulty charging system. The company continued to make and sell the earphones to outlets even after the CPSC informed the company of the complaints.
In response, E-Filliate Inc. has proposed a solution that the plaintiffs are unhappy with. They are willing to replace the earphones, but several users have already suffered injuries or had to put out fires because of their faulty product. The plaintiffs appear to be ready to reject the offer and move forward into litigation.
Understanding the problem 
Companies that continue to sell dangerous or defective products tend to get rung out in court. Settlements for punitive damages are not uncommon and if the company can be said to have knowingly placed a dangerous product into the stream of commerce, they would not even be able to file for Chapter 11 bankruptcy protection. So the stakes are quite high, and the government expects companies to honestly report consumer safety issues, issue recalls when necessary, and get the dangerous product out of American homes. The company's apparently lackadaisical response to getting reports of a fire hazard from the CPSC will not help them in front of a judge, especially if anyone suffered a serious injury as a result of their product after the safety issues had been reported.
In some cases, this has resulted in companies being "executed" by the government. Takata is among the most famous examples. They produced airbags that they knew had a propensity to explode under certain conditions. Instead of issuing a recall, they settled lawsuits under seal and continued to manufacture dangerous exploding airbags. Takata now exists as a shell company that pays out claims related to their defective airbags. Recalls are still being issued over these exploding airbags and the death toll continues to rise.
That will not happen to E-Filliate because small burn injuries are not similar to the deadly force erupting from defective airbags. However, it's a bad look for a company to stand up in front of a judge or jury and say, yes, we got reports that the earbuds were defective, but we kept supplying them anyway.
While some will walk away with minor second-degree burns, others could lose their homes due to the defective earbuds and even family members. Since the company knew, it sure has the look of willful indifference and not an honest mistake.
Talk to a Florida Product Liability Attorney Today 
Halpern, Santos & Pinkert helps injury victims file lawsuits against companies that produce defective products. Call our Florida personal injury lawyers today to schedule a free consultation and we can begin preparing your case immediately.
Source:
lawstreetmedia.com/news/tech/e-filliate-inc-hit-with-product-liability-class-action-over-faulty-earphones/